My American Classics Look:  Calvin Klein Sleeveless Trench  /  Sanctuary Linen Shorts  /  Free People Bodysuit  /  Michael Kors Handbag  /  Le Specs Sunglasses
Task for the day: Wear a look by American Clothing Brands
Since tomorrow is America's birthday, I decided we should celebrate by shopping and wearing American. This task turned out to be harder than I though it would be. There are obvious American classics, brands that have been around for years and are recognized world wide as distinctly American. These include giants like Ralph Lauren, Nike, Tommy Hilfiger, Calvin Klein and some others. However, there aren't that many wide-known brands that are actually made in USA. While putting together my outfit, I realized I actually had nothing made in the United States in my closet. So I took a deeper look at the market to find what the true American Clothing Brands are.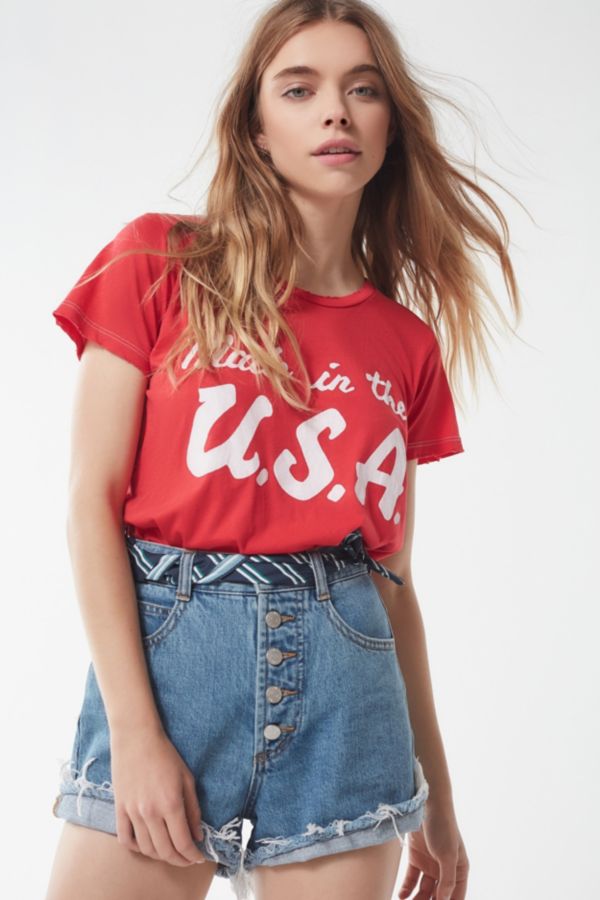 Made in The USA Tee from Urban Outfitters
12 American Clothing Brands to Shop this Summer:
1. Michael Kors
This name was the first thing that came to mind when I thought about American Clothing Brands. Michael Kors has a firm grip on several segments of the American retail market, from runway to every day wear, as well as footwear and accessories. While their high end label is short of breathtaking, the budget friendly items can sometimes lack in quality. Nevertheless, Michael Kors is a big player on the American shopping scene.

2. Calvin Klein
Another famous American name, first thing that comes to mind when I think of Calvin Klein is Back to the Future 🙂 Whether this movie is responsible for making CK a world-wide recognizable brand is a debatable fact, however, Calvin Klein also dominates several areas of American retail including clothing, underwear, accessories and runway as well.

3. Ralph Lauren
Ralph Lauren is a label I look up to. To me, their are epitome of American classic, the go-to place for polos, chinos, dress shirts and kids clothing. It's a brand I've worked with for many years and who's history I truly respect.

4. Tommy Hilfiger
Ralph Lauren's rival for many years, Tommy Hilfiger has finally found it's own niche this year. After a very successful runway show in Milan and a collaboration with Gigi Hagid, Tommy is back on the map as a sporty and edgy American label. Read more about their latest collection here.

5. Brooks Brothers
Brooks Brothers is a go-to place for classy, business-friendly looks. Another American retail player with years of history and signature style.

6. BCBGMAXAZRIA
BCBGMAXAZRIA brings loads of sex appeal to the American retail field. Elegant yet edgy style makes this label stand out from the competition. Yet, the shoppers don't seem to be responding well as the brand was forced to close many of its stores earlier this year. Read about it here.

7. Hanky Panky
This lingerie company makes some of the comfiest undies I've ever wore. Bonus points: they make their products in the US and do their best to use locally-made materials.

8. True Religion
This American Denim Company produces some of their products in the US and their style is a mix of urban and wild wild west.

9. Michael Stars
Michael Starts proudly makes 75% of their clothes locally in Los Angeles

10. Coach
Coach is another well-known American brand. Lately, they have been struggling to nail down their identity while trying to raise their price point. Their strategy hasn't paid out yet despite a collaboration with Selena Gomez. I am continuing to monitor them in hopes that they will figure it all out soon!

11. Diane Von Furstenberg
One of the designers I greatly admire, Diane Von Furstenberg is famous for building a unique brand known for its iconic wrap dress. Although their style has developed well beyond, this is one American brand that will always be known for its elegance and femininity.

Another locally made label, Karen Kane produces their stock in California.

What's your favorite American Label? Share with us in our Facebook Group!
Up Next: Day 24 – Red, White & Blue